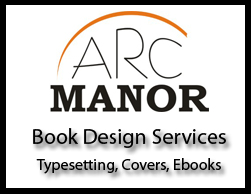 Arc Manor, a US-based publishing company, has been in the book business since 2006, and has designed interiors and covers of almost 1000 books. Our books are published under the Arc Manor, Phoenix Pick and Serenity Publishers names, along with our other imprints.
our book will be created by the same in-house professionals who typeset our own publications (including books of award winning authors like Alexei Panshin and others). We have experts in typesetting, cover and graphic design, and digital books. A completely professional look at a very affordable price!
We custom design each book according to your concept and its contents, and will work with you at every stage until you are completely satisfied with the final product. Our motto is 100% customer satisfaction!
Get free, no-obligation samples, based on your manuscript, and a quotation by clicking above! No obligation, no fuss, no cost!