Let me give you a lil bit of intro about Lahan which  ctrl + C and ctrl + v from its /dev's website
What is Lahana?
Lahana is a set of scripts that will take a fresh Ubuntu EC2 Instance and turn it into a brassic, censorship busting beast of beauty. It does this by creating a VPN that you connect to, and tunneling onward traffic to the Internet through Tor.
How hard is it to use Lahana?
It's stupidly easy to connect to a Lahana node, but there's a growing set of guides to help you get started.
If you want to set up a node you'll need a basic understanding of command line or terminal tools. There's a basic guides up here and further guides to follow.
Why did you create Lahana?
I have family in Turkey who have been experiencing increasing restrictions on accessing the Internet. With the recent troubles I wanted a way for my in-laws to be able to contact my wife via facebook and twitter (her favourite social networks) so they could let her know they're safe. It's not designed with activism in mind, although there are obvious potential applications in that area. However, Lahana hasn't been fully tested, it's a weekend project that spilled into the week so please don't rely on Lahana for privacy, secrecy or anonymity.
Setup Lahana VPN on Windows 7
Setting up Lahana VPN on windows 7 is very easy because there is no need to Install Any additional software. Steps below will easily get you started on Windows 7.
1) Goto Public list of  Lahana nodes on reddit  http://www.reddit.com/r/lahananodes/
2)  While the lahana's public list gets loaded.  Goto start—>Control panel

3) Now Type "Vpn" in control Panel search bar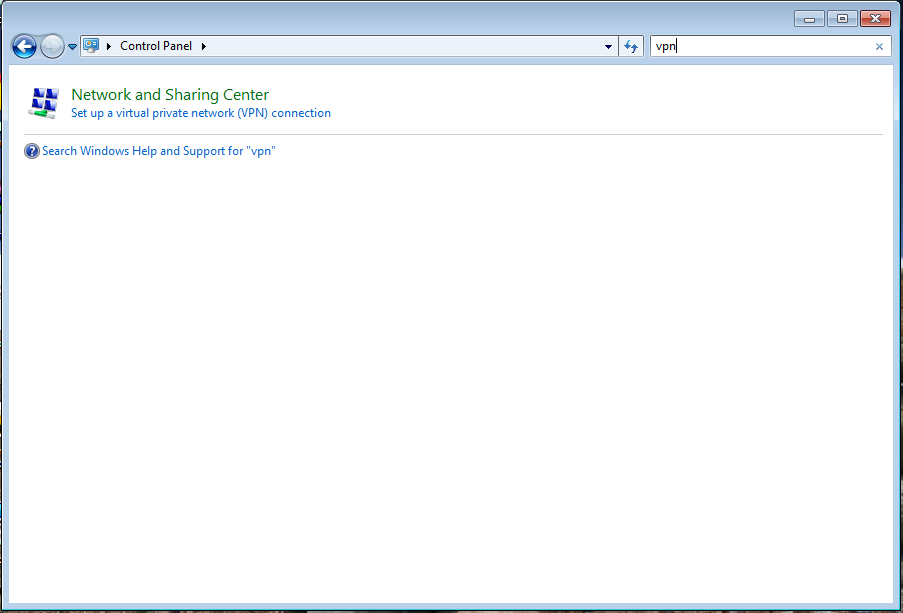 4) Click "set up a virtual private network". In "Internet address" Paste the server address of amazon sever and in Destination name type "Lahana Zer0byte VPN". Make sure to check "Don't connect now" check box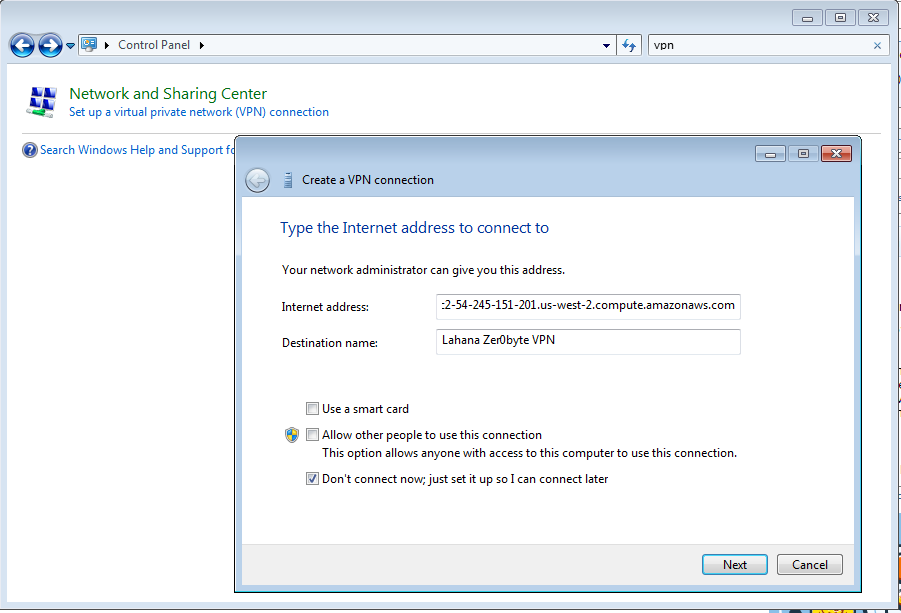 5) Now enter username and password and press create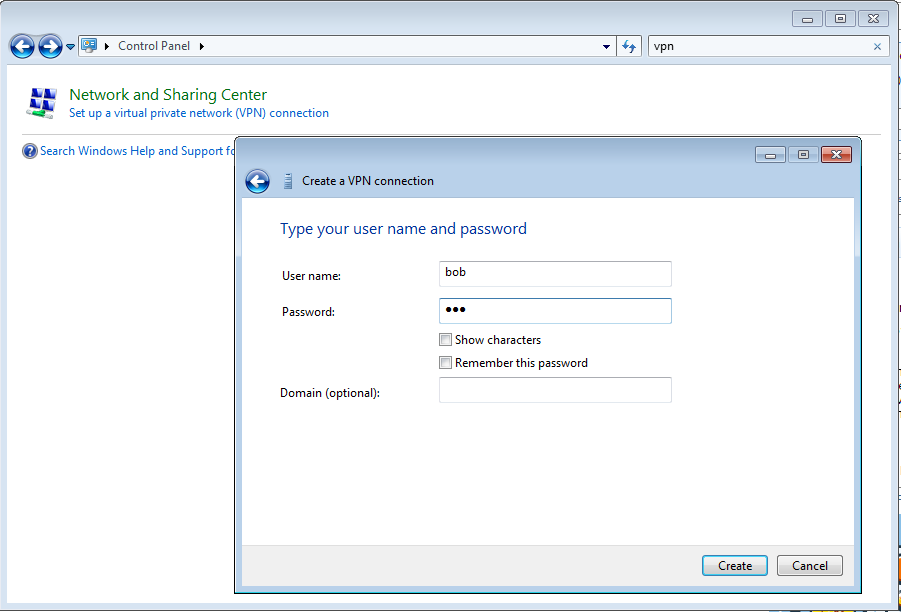 6) Now click on the network connection next to time. Then right Click on the newly created vpn and press properties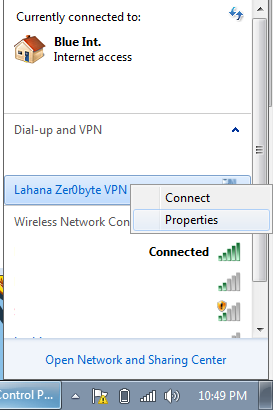 7) Now follow exact same steps in the picture below.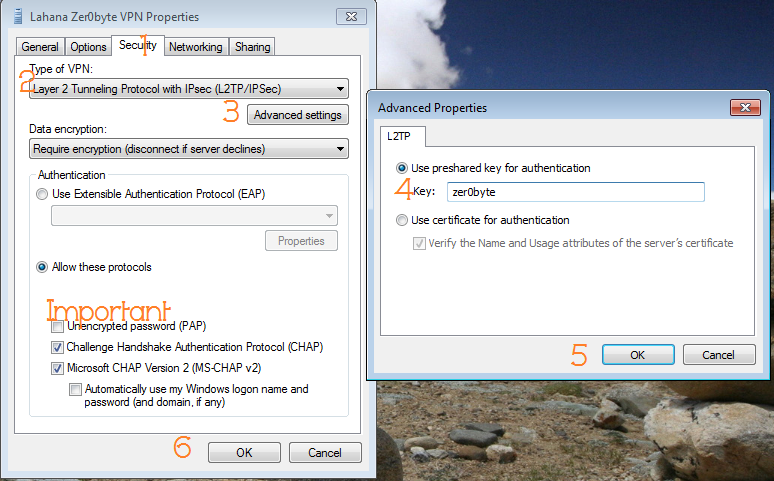 8)  now go back again to the network connection next to time and click connect button on your Vpn.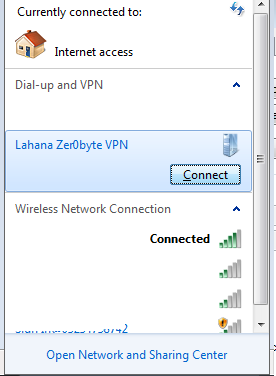 9)  enter user name and password if dint save it before, click connect button.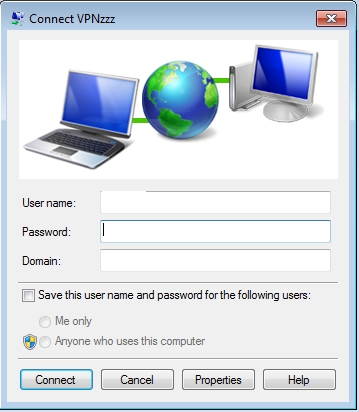 10) and finally your are connected . Important thing to note is that your vpn must show "Internet Acces" status other wise you wont be able to connect to facebook or youtube. Incase you vpn connection does not show internet connection just try another amazon public account.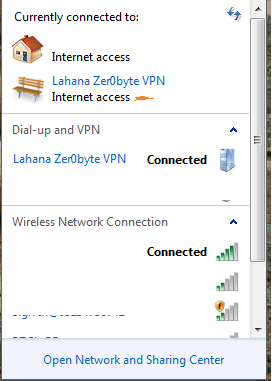 I hope you guys liked it.
cheers